This blog may not be the blog you expected it to be. Were you expecting doom & gloom about the downfall of Facebook? Did you expect us to say give up & move to Instagram? You are in for a very nice surprise! [plus lots of engagement tips]
We always try to put a positive spin on all the Social Media changes, but, in this case no positive spin is needed. The latest Facebook Algorithm changes ARE actually good news for businesses. Stay with us. Let's hear exactly what has changed straight from the team at Facebook & let's see what it means for your business…
CEO Mark Zuckerberg announced that Facebook will now start to prioritise "meaningful social media interactions" versus "relevant content" and that as a result he potentially expects people to spend less time on the platform, but, the time spent on Facebook will be much more engaging & valuable to the user. Since the announcement Adam Mosseri, Facebook's Vice President, has set the record straight for businesses by stating that "If you and I had a back and forth conversation on a post from Business Page, that would count as meaningful social media interaction. So, it's more about these interactions between people & less about sheer content consumption."
This is good news for businesses. If you are already providing engaging content that provokes a reaction this change could actually lead to more traffic coming to your Business Page & associated Business Groups. And, if you aren't already providing this kind of content, you need to be – keep reading & explore our Top Introtweet Tips below to find out how…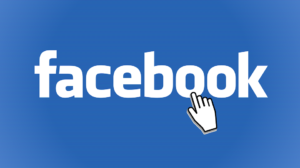 When Zuckerberg announced these upcoming changes on 11th January [see his announcement here] Facebook shares initially dropped as people panicked, but these have already started to rise again. Change has been happening for years & years at Facebook with consistent behind-the-scenes tweaks – this is no different, but actually, maybe it is different for businesses – it's actually good news!
In summary, these changes are nowhere near as detrimental as everyone initially feared. When Facebook makes a change it ALWAYS seems a huge deal & fear spirals out of control for business owners (mainly due, ironically, to Facebook itself), but in reality these changes mean as a business you need to continue to focus on providing engaging content that sparks conversation with your audience. Something you were hopefully doing anyway.
Whether it's a conversation on your business page or commenting on your best friends new Puppy, content that sees good conversation levels WILL get shown with these new algorithm tweaks. Facebook wants to encourage "meaningful social interaction" – don't misread this as not showing content from business pages, this is just not true.
To support their goal of encouraging as much interaction as possible you will start to see less of what Facebook is describing as "passive content" – Facebook noticed that many news stories & videos, whilst they were being read & watched, were actually detrimental to engagement levels. Users were spending lots of time 'on' Facebook reading articles & watching videos but no meaningful engagement was had with their family, friends & businesses that they support & follow. To bring Social Interaction back to the core you will see that this content is now being limited & instead content which inspires engagement, which your business page can provide, will have a higher distribution priority. Page content is still an "important part of the Facebook ecosystem" but the focus will just be shifting a little.
However, the Facebook reality still remains that only 20% of content posted on Facebook makes it to the newsfeed [purely because of the sheer amount of content shared it's impossible to see everything] – so, let's make sure you can do everything you can to ensure your content is being seen!
Here are our top Introtweet Tips for working with [not against] the New Facebook Algorithm:
*Keep Calm & Carry on! Do the British thing & carry on. Don't let the media & worriers change your perception of Facebook & how useful it can be for your business. Facebook is still the 'Top Dog' when it comes to Social Media in terms of the amount of users, the amount of money spent developing the platform & the amount of brilliant features available for businesses such as yours. Make sure you absorb the facts & truth regarding this change, then make the relevant changes. Facebook is still [and we predict it always will be] an extremely important part of your business marketing strategy.
*Remind your audience about the "See First" option – Don't be shy, remind your audience – new & loyal fans – about this option & encourage them to click it for your page [see below]. Make sure if you do this you are then rewarding your audience by sharing interesting, relevant & valuable content for them to see & engage with.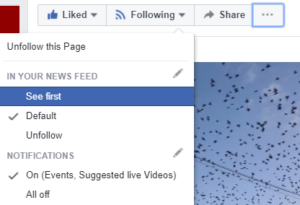 *Do all you can to encourage "meaningful social interaction": This is the buzz word when it comes to this New Facebook change. Make this key to everything you share on your Business Page – create relevant & timely content that inspires engagement, leads to questions & the sharing of opinions. Facebook wants to see conversation going back & forth between your Facebook audience as a marker for sharing your content further. This is how you beat the Algorithm – content is now more important than ever before. Spark interest & converse with your audience as much as you can.
*Do not create 'friends' pages for your business! Don't be tempted to do this as a way of hoping for more engagement with your business content. This is against Facebook rules & your profile could be shut down at any time – instead, use the tips above & below to get noticed on your Business Page.
*Who you like & what you engage with is more important than ever, take this more seriously: For your own personal use on Facebook really take note of who & what you are engaging with on the platform – if you want to see content from a page make sure you click the 'see first option' & make sure you ALWAYS comment on their posts, rather than just liking. Show Facebook exactly what you want to see – they are listening now.
*Comments are important! Comments have always been important, but they are now MUCH more valuable than likes with these new algorithm changes. Remember this for your personal use of Facebook but always when it comes to your business content creation – encourage engagement as much as you can.
*However, don't fall in to the engagement trap! Research shows that this is disliked by your Facebook Audience, for example, posts such as "Comment below if you hate Monday's". This can look like spam content & even if you get lots of engagement on these posts, Facebook won't consider it "meaningful" so it still won't be shown to your audience. Instead, make your content interesting & valuable as a way of drawing in engagement.
*Get to grips with Facebook Live: Facebook know that their Facebook Live videos gain very high interaction levels & encourage lots of this meaningful engagement that are now striving towards. If you haven't done a Facebook Live video before start to get this into your marketing plan – share your expertise, host a Q&A session, announce exciting news – just, do it! Read our Facebook Live Tips here & here.
*Trial Facebook Advertising – Facebook Advertising can be amazing. If you know your target audience & can create content that inspires engagement & interaction Facebook Advertising is well worth a try. Don't fall into the trap of seeing Facebook Ads as a ploy to get you to spend money; instead see it as an affordable & effective way of reaching your exact target audience & encouraging dialogue with them. A win, win!
*Lastly, consider hosting a group for your business – You are going to see more group content as a result of this algorithm change. Facebook have noticed that groups inspire lots of engagement & that some groups are incredibly vibrant & active. As a result, as part of their new plan to make Facebook more valuable to it's users you will see more group content in your feed – therefore it could be a great idea to create a group associated with your business. You can now link a group to your business page so you can share content into your group as your Page rather than your personal account – so it's most definitely an option to look into. [Our How-to guide]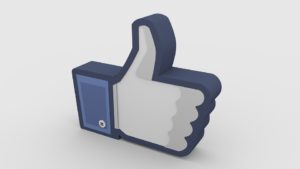 In summary, Facebook have made these changes to make Facebook more valuable & more meaningful to it's users, not to make Business Pages suffer. Facebook know businesses bring a lot of traffic, users & money to their platform so they are always trying to work with you, not against you.
Facebook's new goal of encouraging "more meaningful interactions" will support you as a business in creating & sharing higher quality & more relevant content. As a result Facebook is hoping users have more valuable conversations to help to improve well-being whilst browsing the platform; research has shown when people are actively commenting on posts they tend to feel better about using the platform & this is something that Facebook feel they have a responsibility for.
But not all engagement is good engagement – think fake news & controversial posts. It will be really interesting to see how Facebook choose between posts that have high engagement levels but are controversial – but I am sure that have thought this through. Zuckerberg did vow to "fix Facebook" in 2018, afterall.
Users will be spending less time on the platform aimlessly reading articles & watching silly videos – but now time spent will be much more worthwhile. Facebook actually wants to shrink a little & go back to it's core of Social Interaction which we believe is great news for business pages when our tips above are considered.
A little work will see big results, good luck! 
As a result of these changes & many requests from our audience we will be introducing two NEW Introtweet workshops, 1. A Social Media Content workshop to work with you on creating engaging content plus a marketing strategy to beat this algorithm & 2. A hands on workshop "Facebook – Top Tips for The New Algorithm" to explain these changes in more detail, share all of our top tips for getting seen & show you exactly how to use all of the Facebook features mentioned above.
If you are interested in either of these workshops please comment below or email us on hello@introtweet.com & you will be the first to hear when they are launched.