We 💙 Instagram stories! Instagram is having a huge boom, with the number of users doubling in the last 6 months, so now is the time to really get to grips with this platform for your business. We predicted way back in August 2016 that stories would be the next big thing [in this blog] & we're thrilled to see they are!
Engagement is high, the analytics are really useful (once upgraded to a business account) & Instagram stories are a fantastic way to showcase exciting behind-the-scenes content & news from your business. Your followers LOVE seeing what's going on in your business & your stories will always see high engagement – especially if you follow our Top 3 tips below to take your stories to the next level.
Before you begin, if you are a Instagram story newbie – check out our Instagram stories blog explaining exactly what a story is & how to add them to your account.
So, here's our top 3 Instagram story tips! [We have many more!]
1. Use the Boomerang App to spice up your stories! Download the app on your phone & then use this fabulous app to create fun videos which look back & forward to add some interest to your Instagram stories & make your content stand out from the crowd.
2. Utilise Instagram polls! Add an Instagram poll to your story to engage with your audience; these see VERY high engagement levels & your fans will love the chance to vote on a colour choice or idea within your business – give them a go!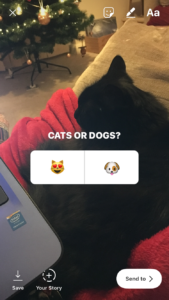 3. Add your location to your story! This is a surefire way to boost the engagement levels of your stories. Wherever you are at any particular moment you can add your story content to this locations story, as well as sharing the story with your followers. For example, at our #TweetOverCoffee events we would share a story of a photograph of all our attendees, and add our location as Taunton straight onto our story (see picture below). This way our Instagram followers can view our story but so can EVERYONE else who is on Instagram in Taunton – brilliant!
Bonus tip! An exciting NEW story feature has landed this week – Instagram story highlights!
It's obvious Instagram LOVE Instagram stories because of all the amazing features that exist within them for businesses & this has been proven once again with this brilliant new update which is currently rolling out.
When you share content to your Instagram stories you now have the chance to add this to your highlights. These highlights appear at the very top of your profile whenever anyone pays a visit – this is a fantastic way to show off your business best bits & most exciting news.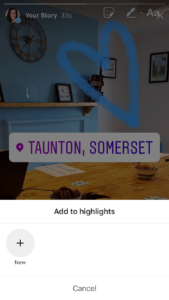 We can't wait to see the next development with Instagram stories, we know we will love it!
p.s Next year we are going to be running very informal, two hour Instagram workshops here in Taunton – let us know if you want to be the first to hear when we announce the dates & venue. Spaces will be limited to 6-8 people.