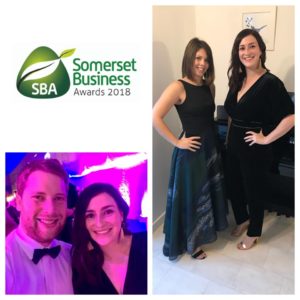 🥂 We are absolutely honoured to announce that we WON Business of the Year, 1-10 employees at the 2018 Somerset Business Awards!🥂
We are all feeling AMAZING & incredibly proud to be the winners of this incredible category. Thank you so much to Ges & Alan at TDA Business who sponsored our award & made the decision to crown Introtweet LTD as your winners.
Also, a huge THANK YOU to all of our clients, Introtweet supporters & number one fans many of which attended the awards ceremony.
The Somerset Business Awards are organised by the Somerset Chamber of Commerce & being a finalist in these awards has always been an ambition of ours at Introtweet, so to now be WINNERS feels incredible.
What a night – onward & upwards! 🐦🐦🐦
Please find the 2018 full list of winners below:
New Business of the Year – The Sangha House
Service Excellence Award – Bowens Opticians
Marketing & Promotion Award – Bradfords Building Supplies
Investing In Somerset Award – Eat Festivals
Skills For Growth Award – Evolution ABS Ltd
Young Employee of the Year – Rachel Lane @ Oake Manor Golf Club)
The Albert Goodman Family Business of the Year – C&D South West
Technology & Innovation Award – Cardstream
Somerset Manufacturing & Producer Award – Granny Gothards
Business of the Year (1-10 employees) – Introtweet
Business of the Year (11-25 employees) – Boxclever Press
Business of the Year Award (26-50 employees) – Evosite
Business of the Year (51+ employees) – Yarlington Housing
Charity of the Year – Key4Life