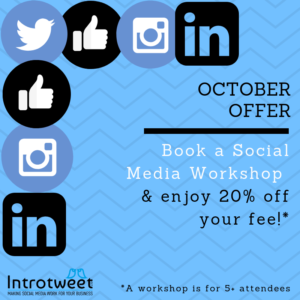 Our October offer means you can enjoy 20% off a group workshop booking! Please get in touch at hello@introtweet.com to find out more about our Introtweet workshops & to secure your date.
We can't wait to hear from you & help you maximise the potential of Social Media for your business.
T&C's:
Offer implies to external workshops rather than our Introtweet scheduled courses locally
Payment needs to be made upon booking & before the scheduled workshop date
Offer is valid for workshops booked in October ONLY but workshops can be booked for any month.
Offer is valid for workshops booked across the UK.
Our offer entitles you to 20% off a Social Media Workshop booking when booking for 5 or more attendees at £70 per/person for a three hour workshop & £90/person for a full days workshop.