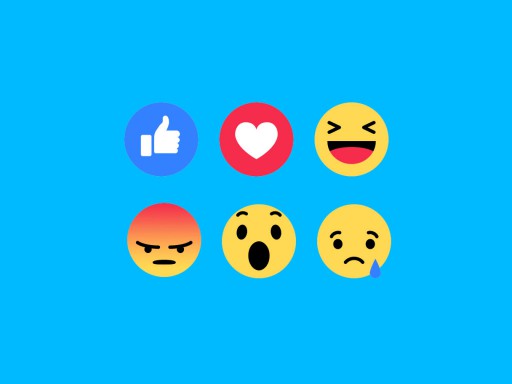 So, what are they?
After lots of customer pressure & discussions about a Facebook "dislike" button Mark Zuckerberg finally decided Facebook needed new ways for its users to interact with posts! People needed a different way to leave feedback that was quick, easy & appropriate for the content shared. The "Love, Haha, Angry, Wow & Sad & Angry" reactions give users the opportunity to quickly reply with the perfect gesture!
**Quick Tip*** To use reactions on Facebook just hold down the 'like' button when using your phone & hover over the 'like' button when using your computer or pc! Choose a reaction & click!
As with all Facebook updates, it doesn't take long for people to start to wonder whether Facebook will be using the statistics gained from these new reactions, to tailor our newsfeed & the advertisements that we see here. Will Facebook use the data to learn more about how different content makes us feel & show advertisements accordingly? Will the positive reactions (haha, wow & love) be treated differently in our newsfeed & take on more importance?
Discussions are happening & time will tell, but I think Facebook will almost definitely be using the data in some way to shape our newsfeed as it learns more & more about us! Whether you think this is a good or bad thing, I guess, depends on your relationship with Facebook! Seeing a sponsored post in our newsfeed for something we 'Love' can only be a good thing & could actually be very good news for businesses!
Will Facebook reactions have an impact on engagement levels for your business page?
Firstly, what's important to note here is that a Facebook reaction = engagement. Engagement is what, as business owners, we are always striving to achieve on our page. Whether your audience leave a like or a reaction – every little helps in increasing our Facebook reach & spreading the word about your business.
However, what has been noticeable & is a potential issue with Facebook reactions is that they seem to be decreasing the number of comments that are being left on business pages. Instead of someone commenting that they love your latest product or are really impressed with your recent award win, instead they able now to just leave a reaction. Reactions are great… but a comment will go a lot further in increasing your Facebook visibility & they help to create a conversation between you & your audience. Conversation builds relationships AND Facebook reach.
What I would recommend you do as a business owner is to try & get your audience to leave a reaction AND a comment by asking questions & asking for their opinions. Comments can be like *gold dust* so do your very best to make them happen!
Also, as a business owner you should take the time to explore your new Facebook insights which include a breakdown of the Facebook reactions & tell you your audience have responded to your posts. This could be a great asset to your page & allow you to tailor & personalise content knowing how your audience will react. This ability to personalise your content could allow you to reach more customers & increase your sales & enquiries by producing targeted Facebook ads.
Many business' in our Introtweet community & Facebook group feel that the Facebook reactions have made little difference to how they use Facebook & unfortunately have noticed that engagement has decreased as a result. But don't give up hope yet! Try some of these simple ideas to make Facebook reactions work for your business!
How can you use Facebook Reactions for your business?
#1 – Try using them as Facebook competition entries! Ask your audience to show you some 'Love' by hovering over the 'Like' button as a way to enter your latest competition! Don't forget though to also ask them to also leave a comment as this gets much greater visibility & could love to a great conversation between you & a potential customer.
#2 – Use Facebook reactions to react to other business pages' posts! Engaging with others on Facebook is essentially for creating engagement on your page & keeping your visibility high – reactions are a fun, but a quick & easy way for you to engage!
#3 – Find out how your potential customers are reacting to other content on Facebook! Search for a similar business to yours & research what content gets each different type of reaction – if great visual content gets lots of 'Love or Wow' reactions then try this out on your page!
…and incase you were wondering Facebook have 100% said they will NOT be introducing a 'dislike' button because of it's negative connotations & the negative impact this could have on the newsfeed & Facebook in general. Stay positive folks!
Get creative with your business page posts to ensure your likers continue to engage with you in the best possible way! Are Facebook reactions just the latest Facebook gimmick – I guess we will have to wait & see!
By Laura Brown – Introtweet