Last week, we had an absolutely lovely day back in Exeter running a bespoke Social Media training workshop in association with British Marine & ADPR Ltd. Those who attended were all members of the British Marine Association & were very eager to learn all about how Social Media can impact their marine businesses & how to make sense of all the latest features & updates.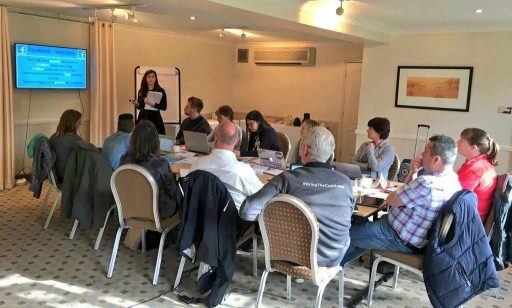 The structure of our workshop focused primarily on Facebook, Twitter & LinkedIn but we also briefly discussed Instagram, YouTube & Snapchat as a way to instantly engage with a younger, highly engaged audience.
From the questionnaire we sent out to each of our attendees beforehand we knew they were keen to focus primarily on the big three – Facebook, Twitter & LinkedIn & learn all about how these platforms can be used to grow their business, engage with their target audience & ultimately provide a great first impression of their business.
Our full day workshop inspired all attendees with activities about optimising their Social Media profiles, engaging with a targeted audience by using Twitter lists & analysing their Facebook Insights as a learning tool for their business. We then ended with a discussion about the importance of a weekly strategy & a group discussion to create the best possible version for all those in the room. We loved all the ideas flying around the room – it's surprising how often an attendee from another business will have an amazing strategy idea for their partner!
Every workshop is different.