Depending on whether you follow us on Social Media, you may or may not have seen our latest Facebook post.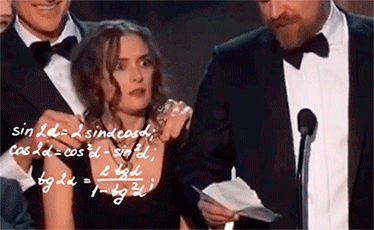 Basically, we have been thinking a lot about GIFs! Since the Facebook update where you can now comment & reply on Facebook posts with GIFs, simply by searching for a key word – we have been wondering if Facebook are going to start prioritising GIFs as content moving forward. From experience we know that Facebook like to & always do proritise their updates & their content preferences – such as Facebook Live & content which ensures your audience stay on the platform instead of leading them to external sites.
We thought the easiest way to find out whether Facebook are prioritising GIFs as content would be to do a Facebook post with a GIF & monitor it's reach & engagement levels. We were pleasantly surprised with the results of this experiment & it seems pretty clear to us, that for the time being, Facebook ARE prioritising GIFs as content. Our post reached 4,000 people on Facebook within a couple of hours & has seen very high engagement levels compared to other posts on our Introtweet page. The post is always continuing to performing well long after we posted it to our page. See our post below…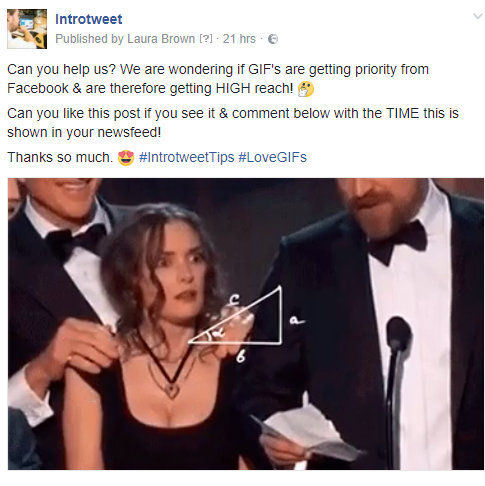 We all know the issues with Facebook reach & how hard it can be to reach your audience on Facebook, so for the time being, we would highly recommend using GIFs as part of your marketing strategy on Facebook as a way of ensuring higher reach & engagement levels. As you know though, Facebook hate replica of similar content, so don't fall into the trap of using GIFs in each & every post – keep them for that something special.
So, this post has been very successful on our Facebook page, we know reason the Number #1 for this (GIFs!) – but are there other reasons for this post performing so well?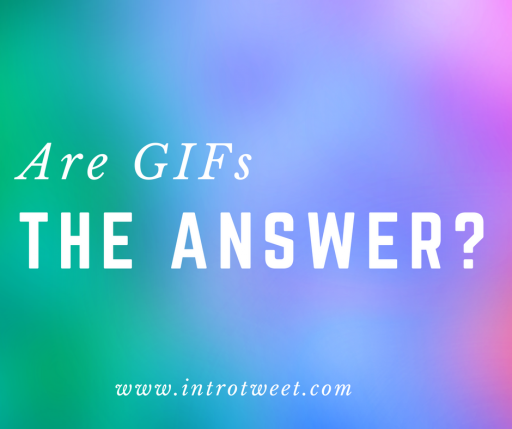 Reason #1 – It seems to be true, Facebook do seem to be prioritising posts which include a GIF – these posts are being shown to more of your audience & are receiving high engagement levels.
Reason #2 – GIFs are currently the latest trend in Marketing! People love GIFs on Twitter, they love that you can now post GIFs as comment on replies on Facebook – so therefore we are all very receptive to GIFs in the newsfeed.
Reason #3 – It demonstrates just how important a call-to-action is on Facebook. Yes, we believe this post performed well because of the GIF – BUT, another huge reason for it's success is because of the text we included alongside the post. We asked our audience to like the post & to comment with the time they saw the GIF pop up in their newsfeed – it's so important to encourage your audience to take action when it comes to Facebook. Each & every action they do spreads your post further & further across Facebook, leading to even higher reach & engagement levels.
So, now you know you should be using GIFs in your Facebook & wider marketing, it's now time for those all important questions – WHAT & WHERE?
What is a GIF? 
A GIF (Graphics Interchange Format) is an online image that moves – for example a moving hand or object twirling along the graphic. You will have spotted these primarily on Twitter, but they are now beginning to be used a lot more widely across Facebook & other Social Media platforms.
Where can you find GIFs to use?
The website we use to find GIFs to use on Social Media is www.giphy.com – it's brilliant. You can download an image to use to share on Twitter or you can just copy the link to the GIF to use on Facebook – give it a go & let us know if you have any questions or thoughts.
GIFs are fantastic, but they are not going to be suitable for every business or every post. Consider your business, the theme of your post & the suitability of the GIF before posting. And, remember – don't over-GIF! Using GIFs are a sure fire way to increase your engagement levels on Facebook, but not if ever post you do from now on includes ones, choose wisely!
We look forward to seeing your eye catching & high-performing posts using GIFs! You can even create your own GIFs using your own video content, take a look & enjoy.
GIF success stories:
"I tried it this week and they are absolutely brilliant! I've had so much interaction, and new followers and even some sales." – Mama Tigerlily