Social media management and training company, Introtweet, was last night crowned the winner of the Digital Innovator Award at this year's Taunton Deane Business Awards.
Commended for the team's outstanding commitment to digital innovation and product development, Introtweet accepted the award at the Somerset County Cricket Club, Taunton, in front of more than 200 influential business people from within the county.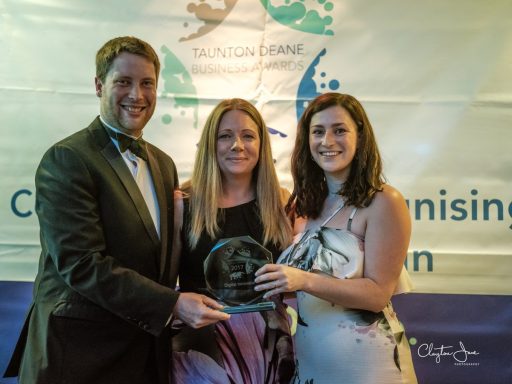 Laura Brown, Managing Director and Founder of Introtweet comments, "We are absolutely thrilled to have won this award! We have worked tirelessly to ensure we can deliver the best services for our clients, whilst staying at the forefront of the industry, and this award is testament to all the hard work. We are fully committed to developing and introducing new, innovative services to our clients and we look forward to our continued growth over the next couple of months. It's a very exciting time for Introtweet."
One of the judges, Kevin Smith, commented on the dedication and expertise of the duo from Introtweet, saying,
"Really exciting category, 3 strong finalists, such a tough decision. Great story of how Introtweet took an existing platform and made it their own. Without doubt it was how they use the platform which gave them the edge."
Kevin also added "It was a real personal presentation – great work & well deserved."
Introtweet showcased its already popular, new online health check service – launched at the start of 2017 – as the main focus within its entry, highlighting the team's commitment to both the development of the digital business and their personal learning. Digital Innovation really is at the heart of everything the Introtweet duo carry out.
At the black tie Taunton Deane Business Awards evening, held at the Somerset County Cricket Club, Taunton, on 8 June 2017, all of the achievements of the shortlisted businesses were celebrated.
For more information about Introtweet, please visit: www.introtweet.com.
For more information about the Taunton Deane Business Awards, please visit: www.tauntondeanebusinessawards.co.uk.