EXCITING news – we are running an Introtweet social media training special offer!
Are you struggling to find the time to access, explore & learn about all the NEW features of Social Media? Is the NEW Facebook Algorithm worrying you? Why not take advantage of 15% off our 1-1 social media training service?
Book a 1-1 or small group (1-3 attendees) training session with us to explore all these new features & ensure you are maximising the potential of Social Media for your business. Book by sending us an email to hello@introtweet.com & quoting this offer.
Find out more about our training by clicking here.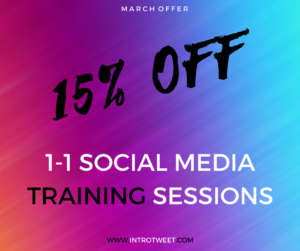 T&C's
*The training session must be arranged & secured throughout the month of March, however, the training session slot can be booked in any month from March onwards to suit you & your business.
*Training sessions must be paid for in full before they are confirmed; without payment we reserve the right to offer your slot to another enquiry.
*Our offer entitles you to 15% off the total price of our training sessions with 1,2 or 3 attendees.
*Please email us at hello@introtweet.com to book or if you have any questions about this offer, thank you.