What a busy 24 hours it's been in the world of Introtweet!🎙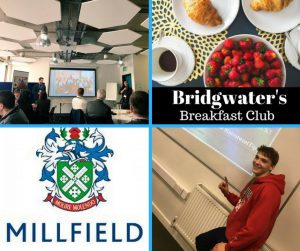 We really enjoyed speaking to the Millfield Senior School BTEC IT & Business students  all about the benefits of Social Media for business! (What a fantastic bunch!) It's always brilliant to share our enthusiasm for all things Social Media with the next generation of potential business owners. It was a real pleasure to be asked by Millfield & we hope to return to speak to even more of their students in the future.
Less than 12 hours after leaving Millfield we were then with the Bridgwater Breakfast Club sharing all of top Twitter tips. We shared some interesting Twitter stats, covered most of the main Twitter features & encouraged all attendees to tweet the "perfect" tweet! We then had the pleasure of being interviewed by Nick at Sedgemoor FM all about Twitter & our Introtweet International training in Monaco.  
Phew!