Do you use Instagram for your business? We just wanted to quickly show you the account we have created for our very own #SocialMediaCat! Some of you who follow us on Social Media & have visited us for our training sessions will know of Otis, our office cat… well, we set her up an Instagram account in July 2016 & her presence has grown & grown!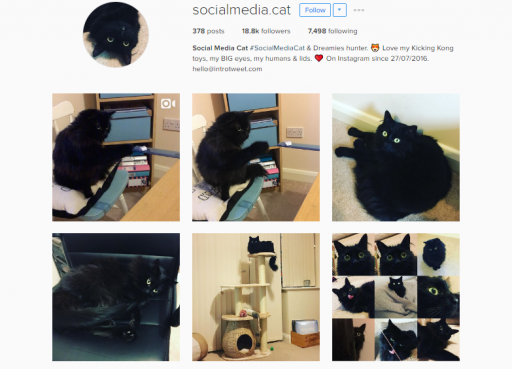 To grow Otis' Instagram account we have used many of the tricks of the trade that we use for our clients Instagram accounts – we ensure we share fantastic images, have great captions, always use 11+ hashtags per post & take the time to engage with our audience & home feed! We also frequently use Instagram stories & live video on Instagram to further build our awareness & our tribe of #SocialMediaCat fans.
As a result of our presence on Instagram, Otis has been sent many freebie Cat Goodies & Toys – so she is more than happy to pose for the odd photograph… or ten! Follow Otis @socialmedia.cat or by searching #SocialMediaCat!