Verifying your Facebook business page means that you have a 'tick' appear next to the name of your business! This tick means you are found much easier in Google search, you appear higher in search results & it works to build trust & credibility in your business.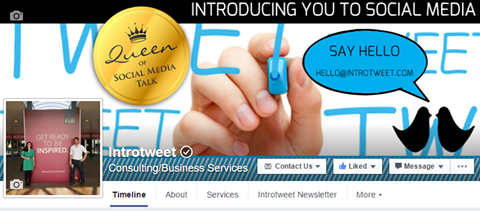 To verify your page:
Go to Settings at the top of your Business Page
From General, click Page Verification
Click Verify this Page, then click Get Started
Enter a publicly listed phone number for your business, your country and language
Click Call Me Now to allow Facebook to call you with a verification code
Enter the 4-digit verification code and click Continue.
For most businesses – it's as easy as that!
But, here's a few points to note:
You can also verify your page with documents containing your registered business address, but this is a much longer process. The process above takes literally one minute!
To be able to verify your business page your phone number has to be "publicly listed" & recognised as being associated with your business. Our Introtweet phone number is displayed on our website, all online activity & associated with our Facebook page. If you only add a phone number minutes before you verify… probably isn't going to work.
To be able to verify your page you must be listed as a "Local Business", Company or organisation. If you are currently not – take a look in your page information & edit this category so you are able to carry out the verification process. Similarly to above, you may have to wait a day or two for this change to take effect so you can verify your page
How did you get on? Were you able to verify your page quickly & easily? Tweet us @IntrotweetUK & let us know!