Firstly, before we discuss the benefits of consistency, let's discuss some actions you should be doing consistently across your Social Media accounts.
Sharing valuable content – whether that's information about your business or news from your industry, sharing content that matters to your audience will ensure they keep coming back!
Engaging with businesses & people that matter to your biz – whether that's a Facebook like to a local business, a simple comment on Instagram or a few retweets – it all counts!
Adding people to & engaging with your Twitter lists – Twitter lists provide the PERFECT platform to engage with people that matter easily & consistently.
Taking part in Social Media Networking events such as #SomersetHour & #HandmadeHour which run weekly over on Twitter!
Checking your insights to see what is working… and what's not! Twitter & Facebook have their own built in analytics & we also use SumAll for our other Social Media accounts – check it out!
So now you know what you should be doing regularly; let's move on to our Top 5 benefits of Social Media consistency!
Consistency is SO important; we see so many businesses really kickstart their Social Media efforts only to give up after a week or so! This isn't going to get you anywhere… and actually in our opinion, it's much better to have NO Social Media presence than a poor & neglected one!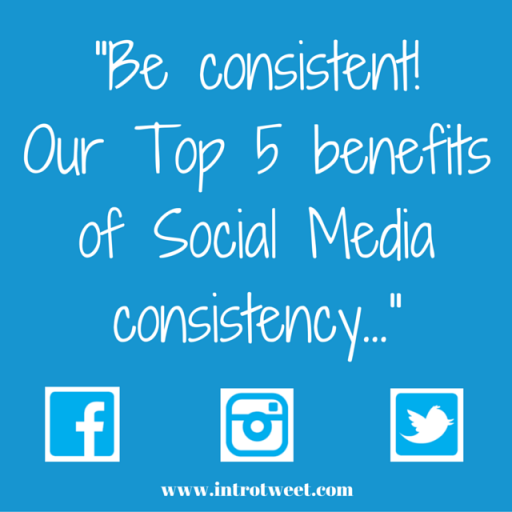 Be consistent, because…
1. It leads to familiarity! Familiarity = engagement! People get used to your posts & therefore begin to answer your questions, retweet your content & support your Social Media presence.
2. You & your business get noticed! Get noticed by those that matter to your business on daily basis – include them in tweets, write on their Facebook wall & engage with their content! Engaging to get engagement is our Number #1 tip to get noticed by those that matter!
3. It will improve your stats! Have you ever noticed that after taking a break from Social Media you return to a profile that feels like a ghost town? Those who used to engage with you are nowhere to be seen & you feel like you're talking to yourself? This is simply down to the fact that you have lost your familiarity! All the work you did to get noticed & get engagement has been lost. Also, to get technical, your Facebook reach relies on your producing great content that is engaged with… a complete lack of content will lead to your reach spiralling downwards – which no business wants!
4. You will increase your standing in your field! By providing valuable, interesting & beautiful content you demonstrate you are the go-to business in your field. You build up a reputation for always being ahead of the game! This is going to have a fantastic effect on your business & will subsequently lead to enquiries.
5. You will improve your Social Media skills! The more you post & tweet the more you will realise which platforms work best for your business & which style of posts lead to the most engagement. You'll learn what images create the most engagement on Instagram, you'll learn which Twitter networking hours are worth tweeting in & you'll learn the peak times to post on Facebook! SO valuable!
Enjoy creating a brilliant Social Media presence! Be consistent & come back & let us know all the benefits you discover!