During the many LinkedIn Workshops, talks & seminars we have delivered we are always sharing what we believe to be the most important of aspect of LinkedIn. Can you guess what it is?
It's not engagement, consistency or writing LinkedIn articles (although these are pretty important)…
It's the importance of your LinkedIn personal profile, but actually more importantly, the importance of all your company's personal profiles combined.
Just think of the potential.
Here's our 3 reasons why your whole workforce should be active on LinkedIn.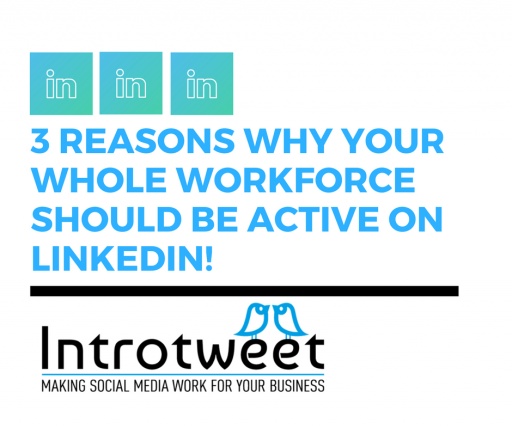 First Impressions
When your business is searched for on LinkedIn, and it will have been, are you happy with what is found? More often than not when a company name is searched for, personal profiles appear first in the search results. People do business with people. Whilst this business cliche is very overused it doesn't change the fact that it's true. LinkedIn gives you the perfect opportunity to make the most of this cliche for your business.
So, when your employees, colleagues & team members profiles are found on LinkedIn – what first impression is being given? If all profiles were fully optimised, active (since the LinkedIn update all recent activity is shown on your personal profile, so this is more important than ever), and full of brilliant endorsements/recommendations, just think how powerful this could be for your business.
2. Think of the potential
How does increased brand awareness, increased engagement with your target audience & increased enquiries sound? By each member of your workforce successfully ultilising all of LinkedIn's key features – such as advanced search, sharing posts/articles & the potential of Direct Messages – the opportunities are endless for your business.
During our workshops some businesses decide all employees will have a different sector to target on LinkedIn & to share different content suitable for their target audience, others decide the opposite. Whatever you decide (and we can help with this) we know LinkedIn will be a vital tool for you moving forwards.
"300 Million LinkedIn users share content on the platform weekly"
3. Success on LinkedIn lies with your personal profile
The personal profile is where success lies on LinkedIn. Having a company page is good for SEO purposes, for all employees to engage with & to share updates on, but, really this is where it ends. The company page has very limited features & very often gets poor engagement levels.
Instead of just one company page, however well (or not) this may perform, multiply this by your 5, 25, 50 employees & just see where this takes your business.
"79% of B2B marketers view LinkedIn as an effective source for generating leads"
If you have any further questions about your businesses LinkedIn presence or would like to discuss LinkedIn workshops for your business – please get in touch & email us at: hello@introtweet.com.