Talking about Chocolate – the key to getting brilliant Social Media engagement! 😍 Of course… it's not as simple as this, I haven't lost the plot & think this is the answer to all your engagement woes… BUT our recent post on World Chocolate Day asking our audience for their favourite Cadbury's Chocolate bar reminds us of some very important Social Media engagement tips that we just had to share with you all.
This post (see below) saw fantastic engagement levels across all of our Social Media platforms with the post still drawing in engagement, likes & comments today! It sparked an interest in our audience on a day where Chocolate was already a hot (hotter than usual) topic. What was brilliant to see & what should be the aim of all of your Social Media posts was the amount of comments on Facebook & replies on Twitter the post gained. Getting your audience talking to you is SO important both for your Social Media reach & for your relationship building; this post saw a great host of comments, replies & GIFS alike!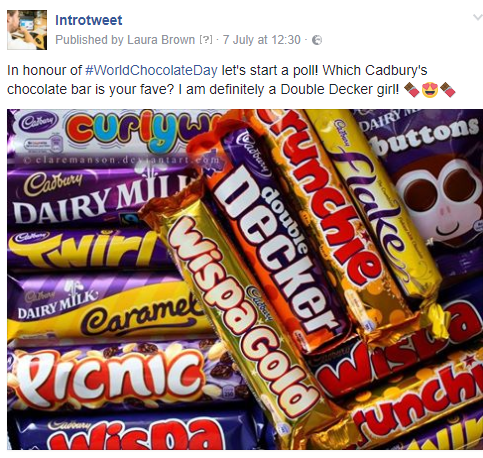 So, what Social Media tips did we draw from our post?
Always allign to National Days, Events, Trends & News Stories
Wherever possible take note of the news worthy stories, trends & National days. These are highly important to consider when creating Social Media content that will lead to high engagement levels – even better if the National Day relates to your business! These days give businesses a fantastic opportunity to engage with their audience, run related special offers & competitions & showcase the 'personality' behind their brand & logo. We have seen fantastic examples of businesses ultilising days such as #SaySomethingNiceDay to showcase fantastic customer testimonials or using #ChocolateWeek to launch a new chocolate product each day amongst the buzz surrounding the hashtag.
Check out some fantastic National Days here in this hashtag National Day calendar
Consider exactly what your Social Media audience are interested in…
Take some time to consider what your audience love & the kind of posts they will engage with across your Social Media accounts. Whether this is Chocolate, Pets, Trending news or top tips – what makes them like, comment, retweet & share? Check out your insights & see if you can find any patterns regarding the kind of topics & styles of posts that get them engaging with you – but, also consider why your audience liked your page in the first place.
Just by taking the time to consider this will make your next Social Media posts more effective & 'interesting' to your audience – give it a go!
Try to consistently allign your audiences interests with your business related/promotional posts
Once you know what kind of topics your audience like to engage with, see if you can then re-create this kind of content & the style of the post to relate to your business. For example, we now know our audience like to share their opinion & vote on their favourite Chocolate Bar – could we now try a post getting our audience to vote on their favourite Social Media platform? We know our audience like engaging with pet related content & pictures of Otis (Our office #SocialMediaCat) always go down brilliantly, so we often try to allign a picture of Otis with a post still actually promoting our business – i.e an upcoming Social Media training session with Otis sat on the desk or a funny out-take of us filming videos for our Social Media Health Check!

The ever-important benefit of the Call-To-Action!
We keep saying it, but, the Call-To-Action is incredibly important if you want your audience to engage with you & the simplest & most effective action is to simply ask your audience a question! But, if you have read above – hopefully not just 'any' question – a question which relates ideally to both your business AND something your audience are interested in, the perfect combo!
Lastly, we believe this post demonstrates something we already knew & consistently share – people love to see personality across your Social Media accounts. On Social Media people don't like just engaging with a logo &/or an overly professional page – showcase some personality behind the brand & see your Social Media reach & engagement increase.
Enjoy your Social Media & keep us updated with your success stories (especially your Chocolate-themed posts!) 😍